Sinaia

1. About us
2. Why Sinaia? (The story)
3. Tourism attractions
4. Recreation, Entertainment and Free time spending
5. Useful information
1. About us
"Sinaia Tourism Association" was established in 2011, with the defined purpose of promoting mountain tourism in Sinaia resort and to revive the spirit of "Sinaia-The Carpathians' Pearl" -having as founders 6 three star boarding houses and a quality restaurant, most of them located in the central and ultra-central area of the resort.
The association has a total number of 150 beds, grouped in double rooms, three-bedded rooms, junior suites and apartments, with modern furniture and quality amenities, each with its own bathroom.
"Sinaia Tourism Association" offers a complex package of services for tourists, in Sinaia resort and its surroundings, as well as a diversified range of recreational activities, for a full use of the days spent here. Some examples are:
Accommodation in three star boarding houses, at advantageous rates;
Meals at the best quality restaurants, the associations' clients having an attractive 10 % discount from the value of the bill;
Transfers from/to airport, train station, using a bus/minibus /regular vehicle supplied by our partners ;
Trips on various mountain roads with all terrain vehicles ;
Various equipment renting (bicycles in summer time ,skiing equipment ,snowboard equipment ,skates ,in winter time ),with a 10 % discount for our clients;
Cable transport with cable car, gondola, chair lifts and ski lifts at advantageous rates for our clients;
Museum visits;
Attractive packages for holidays spending for children groups, youngsters groups, families with children, retired and pensioners groups etc.
Promotion of Sinaia resort mountain tourism abroad, for attracting foreign tourists in the area.
Starting with January 2012, Sinaia Tourism Association became a member of Prahova County Tourism Development and Promotion Association, and also a member of the Federation of Romanian Tourism Promotion Associations.
We are waiting for you to discover together with us "SINAIA – THE CARPATHIANS' PEARL"!
Alexandru DOBROTĂ, President
Sinaia Tourism Association
---
2. Why Sinaia – The Story
Sinaia mountain resort has its beginnings in a small church dedicated to Saint Nicholas, located in an area called "Molomoţ" (North from Furnica district, nowadays), the first settlement on Plaiul Prahovei, documentary attested in 1581. But the historical attestation has a connection with the establishment of Sinaia Monastery, built by Mihail Cantacuzino -a Romanian ruler –as homage for the sacred mountain of Sinai, in 1695, who also gave its name to the monastery. Around this monastery, the first settlements appeared. Those settlements transformed Sinaia in a centre of political life and a privileged residential area, once the Peles Castle (1875-1883), the Sinaia –Brasov road (1847) and the Bucharest- Sinaia railway (1879), were built.
In 1901, being the summer residence of The Royal Family, Sinaia was designed as a luxury holidays resort, offering to its tourists 10 hotels, 105 villas and 60 peasants' boarding houses, two casinos, water therapy facilities, a zoo, pleasure tours horse pulled carriages, 3 centres with riding horses, riding hall and riding school, restaurants, beer houses, cafeterias and shops (most of them on a seasonal base), a promenade park, and it was nicknamed "The Carpathians' Pearl".
The resort is located at an altitude between 798 and 1.055 meters, on the South-Eastern side of Bucegi Mountains, along Prahova River Valley. The forested feet of Furnica, Zgarbura, Colţii lui Barbeş and Culmea Izvorului Mountains, harmoniously frame the resort in nice green scenery. At a distance of 123 km from Bucharest, the capital of Romania,106 km from "Henri Coanda" International Airport(Bucharest) and of only 45 Km from Braşov, Sinaia is located along National Road no.1 or E60, having also railway access.
If you want to have an active holiday, or if you wish to relax in a destination that has a long tradition, choose "The Carpathians' Pearl"- Sinaia. With a history that goes back in time for a few centuries, and influenced a lot by the rulers and kings of this country, Sinaia is today a place that offers various possibilities of spending your time. If you reach it, it is worth to pay a visit to its tourism attractions, to practice winter sports and to go on mountain trails walks.
---
3. Tourism Attractions Sinaia
Peleş Castle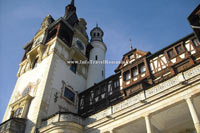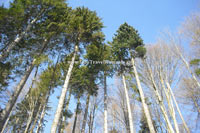 The castle from Peles creek valley, a summer residence of the Romanian Kings, was built under the ruling of King Carol I of Romania (1866–1914) and it became one of the most important monuments of the XIX century Europe. On the castle's domain Pelişor Castle, The Guards' Headquarters, The Economat building, The Hunting House, Foişor Castle, the stables, the electric plant and Şipot Villa were also built. Up to the end of the construction works (1883), King Carol I and Queen Elisabeth, lived in the hunting house, which was finished before the castle. Having its own micro hydropower plant, Peles Castle was the first castle that used electricity from Europe, with a central heating system and a centralised vacuum cleaning system – total novelties for that time.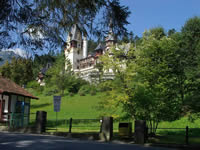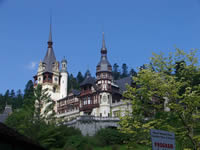 Through its arrangements done after 1900, the residence was hoisted with another floor, and also the main tower appeared. In its final shape, the building with a total surface of 3.200 square meters has 160 rooms and over 30 bathrooms. In its rooms, the castle sheltered one of the most important paintings collections from Europe, and a rich collection of arms, with more than 4.000 European and Oriental exhibits, coming from XIV-XVII centuries. The beauty and richness of the sculpted woodcraft and the coloured strained- glass windows are highly admired by the visitors. The Honour Hall, a reception room built by Karel Liman in 1911 from a former interior courtyard, is richly decorated in wood and it has a roof made of strained- glass windows. The arms rooms were arranged in the interval 1903-1906, and the council room, rich in wood carved motifs, in 1914. The Florentine Hall, The Great Hall, is decorated in the Italian Neo-Renaissance style.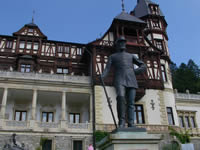 The Theatre Hall bears Louis XIV style has 60 seats and a royal loge. The Imperial Apartment was arranged in 1906, in Maria Theresa style for the visit of the Austrian-Hungarian Emperor, Franz Josef. After King Mihai's abdication, in 1947, Peleş Castle entered the tourism circuit, and the other buildings were used by people of culture of that time as a creation and relaxation place. During the last years of communist regime, the whole complex was closed; today only Foişor Castle remains a presidential residence.
Pelişor Castle is located a few hundreds of meters from Peles Castle, and it was built in 1899-1903, bearing the German Renaissance style. It was inaugurated on the 24th of May 1903, being built after the plans of architect Liman ,who permanently collaborated with King Carol I. Pelişor Castle, after King Carol's wish, should of being more a Swiss chalet, and not at all a castle, because, as he said, there could not be two royal castles.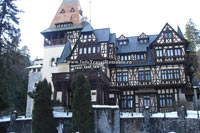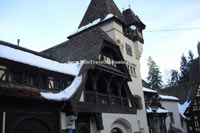 Starting from 1993, visitors have the opportunity to see the ex-princely and royal apartments, the working rooms, the children's apartments, Queen Mary's painting workshop, as well as the small Byzantine Chapel arranged inside the building.
In The Economat building and in the former Guards 'Headquarters building, presently there are hotels and restaurants arranged, and all the other buildings became tourism or protocol villas.
Sinaia Monastery
Sinaia Monastery, "The Carpathians' Cathedral", located in an enchanting natural setting, is dated from the XVII century, and it represents the historical identity of the town, being the first official building on this territory. As time passed, the monastery knew various transformations, presently sheltering the next buildings:
The Small Church – which is actually the first original church built at the initiative and with the major help of the ruler Mihail Cantacuzino, in 1690-1695;
The Chapel of Ease – coming from the same time, and used mainly for day-to-day religious service;
The Big Church – This was built under the jurisdiction of Ioasaf and Paisie abbots in 1842-1846 (under the ruling of Bibescu Vodă). It is the first religious building from Romania that used electricity for lighting and it shelters the Epitaph made by Ana Roth , registered in U.N.E.S.C.O. catalogue;
The Museum of Sinaia Monastery – it is the first religious museum from the country, built in 1895 , on the occasion of the monastery's bicentenary;
The Bell Tower – was built in 1892; the bell was brought from Colţea Tower from Bucharest, and it was moulded– it is said, from a canon used in the 1877 War of Independence - (1895) and re-moulded (1914) and it weighs 1.700 kg. Its sound can be heard from all over the town
Tache Ionescu's Grave – a well known politician, born in Ploieşti, he dedicated all his activity to the superior purpose of unification of the Romanian nation.
Sinaia Casino
Sinaia Casino is located in Dimitrie Ghica town's park. Its building started in 1911 and it was finished 7 months later – in a record for that time- under the supervision of the Romanian architect Petre Antonescu (1873-1965), at the initiative of King Carol I.
The Casino had, as its first shareholders, 7 businessmen, among whom, there were also the Marcay brothers – Edgar, Edmond and Yves, who were also shareholders at the casinos from Monte Carlo and Nice.
The Casino, that had a daily traffic of players of at least 800 people at that time, had also special trains that were established for bringing players from Bucharest. Today, the building shelters the International Conference Centre and it is a host of numerous congresses, symposiums, conferences and national and international reunions. It also is a favourite place for organising various and special plastic arts and photography exhibitions as well as concerts, shows and books presentations.
The Royal Train Stations
Sinaia is the only town in Romania proud to have two royal train stations. The old one was built in 1886 by the general directorate of Romanian Railways for King Carol I. In this station used to have a stop – and it does nowadays too-the most famous train in Europe – The Orient Express. On its platform one can find a marker in remembrance of Romanian prime-minister Ion Gheorghe Duca, assassinated by the Legionnaires in 1933.
The other train station was built in 1938-1940 at the order of King Carol II, following the plans of the renowned Romanian architect Duiliu Marcu. It is a rock- made building that bears the royal signs of King carol II, "CC", which can be seen nowadays on the door's handles, and was reserved exclusively for the royal family and its guests. The station shelters also the Miniature Railways Museum.
Dimitrie Ghica Park
Dimitrie Ghica Park was set-up in 1881, and the arranging works were done under the supervision of the Swiss landscape architect Eder. It shelters several century old trees, and inside it, the concerts of the annual "Sinaia Forever" Festival are held.
One can admire, on the sides of the alleys that cross the park from side to side, the sculpted busts of some personalities that lived here or just visited the town often: Mihai Eminescu- the national poet and lon Creanga the famous Romanian children story writer, Nicolae Bălcescu-Romanian politician and fighter for unification of the nation, and last but not at all least, Dimitrie Ghica, co-founder of The Civil Hospitals Charity and one of the main developers of the town.
Saint Ilie Church was built in 1933-1939, following the plans of the architect Paul Smărăndescu, bearing the Romanian-Byzantine style. The building is made of carved stone sided with bricks, and it is located on Republicii Boulevard, at the intersection of this boulevard with DN1 or E60.
George Enescu Memorial House
George Enescu Memorial House is located in Cumpătu district, the only district Sinaia has that is set on the right bank of Prahova River. In George Enescu's brilliant destiny, Sinaia and Luminiş villa (1923-1926)-the actual memorial house- built in an authentic Romanian style, have a special signification. George Enescu organised his life so that, in the period of time between concerts, he could find his rest in order to be able to compose, making a refuge from his villa form Sinaia. It is not just a happening that this villa was built in Sinaia, because Enescu was extremely connected with this town – not only sentimental, but also professional, due to the support that Queen Elisabeth constantly gave to Enescu, Peleş Castle being for him a launch gate towards the musical cultural world of that time.
Bucegi Mountains Nature Preservation Museum
The museum was set up in 1976 and it shelters samples of flora and fauna specific to Bucegi Mountains area, rare and protected species, species on the brink of extinction and even ones that disappeared, as well as endemism (specific only for Bucegi).It is located in Dimitrie Ghica Park.
The Royal Sheepfold - Franz Joseph and Saint Ana Cliffs
The Royal Sheepfold Meadow is a part of the Royal Domain and it used to shelter stables, some caws, buildings of the employees and a small Maramures Region wood church. The meadow was a favourite destination of the Royal Family members, for walks or for horse-rides. Till nowadays, there are remains of a paved alley that was leading to this place, through the forest.
Franz Joseph Cliffs are located nearPoiana Stânii hut. These cliffs are a Bellevue point and they were arranged during the royalty with steps and banisters, and from their terrace one can admire a vast segment of Prahova River's superior valley. They can be reached following a marked path from the hut.
Saint Anna Cliff is a tall rock formation located on the way to Cota 1.400, at the intersection with the road to Royal Sheepfold Meadow. It has at its base a small meadow. The rock wall had some icons painted on it-some long time ago –traces of them can be seen even today. The small grotto existing there used to be, a long time ago, a shelter of a hermit.
The Sphinx
The Sphinx from Bucegi Mountains is a megalith located at 2.216 meters altitude. The Sphinx represents one of the most important ancestral relics of the Romanian people. It is a living proof of the ancient Dacia civilisation and of the origins of Romanian nation.
Babele Rock Formations
Babele are some rock formations located in the near vicinity of the peak called Baba Mare (2.292 meters altitude), from Bucegi Massif in Meridional Carpathians, near the mountain hut with the same name. Babele hut, located under the peak, is a central departing point for hiking trails in Bucegi Mountains. The name Babele comes from the shape of the rocks, that, for some people seem to represent a group of old ladies at a chat (a colloquial translation in Romanian of the word "old lady" is "baba").
The Heroes Cross Caraiman
The Cross of the Nation's Heroes is located in the saddle of Caraiman massif, right on the edge of the abrupt heading to Valea Seacă, at the altitude of 2.291 meters, being unique in Europe not only through the altitude of its position, but also through its dimensions: the actual cross has a height of 28 meters and two arms of 7 meters length each. It is iron made.
The cross was built in 1926-1928, at the initiative of Queen Mary and King Ferdinand I of Romania with the sole purpose of bringing homage to all Romanian heroes that fought and died for their country in the fights of World War I, against the armies of the Central Powers.
Bolboci Lake
Bolboci Lake is an artificial dam lake, built of rock fill – the rock came from the rock quarry called Podul cu Florile – in Zănoaga Mountain from Bucegi Massif. Bolboci hut is located on lake's bank, at 27 km from Sinaia and it was built in 1928.
Ialomita Cave and the monastery
The cave is located on the right side of Cheile Ialomiței Mountain, at about 10 km upstream, at an altitude of 1.530 meters and at a distance of 36 km from Sinaia. Right at the entrance of the cave, there is Ialomița Monastery, erected in the XVI century, by the Romanian ruler of Wallachia, Mihnea cel Rău. The monastery burnt several times until nowadays, and it was every time re-built.
Some other tourism attractions worth seeing: Saint Ana hermitage with church initially built in the XV century) from Cota 1.400, the tomb of Badea Cârţan a Romanian patriot, located in the town's cemetery.
---
4. Recreation, Entertainment and free time spending Sinaia
Thanks to the mountain relief, to the tourism attractions to visit and to the tourism infrastructure, tourists that stop in Sinaia can find the necessary resources for practicing an active tourism. One can practice here hiking in mountain areas, mountain-bike tours or cycling tourism, horse riding tours, off- road tours, snow-kiting, climbing and escalading. For the ones that love fun and to stay fit without walking for long distances, they can choose swimming pools, bowling alleys and billiards, tennis courts or the SPAs.
Mountain hiking trails
All year round mountain trails starting from Sinaia:
Sinaia - Cota 1400 – former Vf. Cu Dor hut - Valea Dorului hut – Şaua Lăptici – Padina hut (marking : red stripe, duration : 5 ½ - 6 hours);
Former Vf. cu Dor hut – Valea Dorului hut – Blana – Zănoaga hut (marking: yellow cross, duration: 2 – 2 ½ hours).
Mountain trails only for the summer starting from Sinaia:
Former Vf. Cu Dor hut – Cota 2.000 – Piatra Arsă hut – Babele hut – Omu Peak (marking : yellow stripe, duration: 8-9 hours)
Former Vf. Cu Dor hut – Şaua Călugărului (marking: red stripe, duration: ½ - ¾ hours)
Sinaia – Poiana Stânei – Piciorul Pietrei Arse – Piatra Arsă hut –Peştera Hotel (marking: blue stripe, duration: 6-7 hours)
Ţintarul Hoţilor – Colţii lui Barbeş – Lacurile Vânturiş – Valea Dorului hut (marking: red dot, duration - 2-3 hours). Remember, all the time when you hike, wore adequate equipment.
Mountain biking can be practiced on the trail Azuga (970m) – Buşteni (885m) –Babele Hut (2.200m) – Piatra Arsă hut (1.950m) –Cuibul Dorului hut (1.160m) – Sinaia (900m) – Azuga (970m) (length- 42km, level difference-1.230m, duration- 5-6 ore).
Ski slopes
Sinaia is one of the most important and famous winter sports resort from Romania. One can practice here downhill, winter climbing, bobsleighing and sleighing. The existent skiing domain is distributed on two sides of Vărful cu Dor Mountain (2.030 m):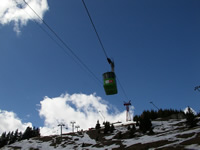 The Western Side – equipped with Valea Dorului chairlift, and ski-lifts. This is the area that receives the most number of skiers. The steadiness of the slopes and the big surface favors practicing a high scale ski, using either the main trail, or the secondary one (red and blue colours on the map).
Ski and snowboard lovers may use the following slopes:
Valea Dorului Sub telescaun 1 – length 775.74 meters, level difference 217.49 meters, difficulty degree : medium
Valea Dorului Sub telescaun 2 - length 804.11 meters, level difference 230.58 meters, difficulty degree : medium
Valea Dorului – Variantă - length 895.94 meters, level difference 199.16 meters, difficulty degree : medium
Valea Soarelui 1 - length 1.190.69 meters, level difference 214.63 meters, difficulty degree :medium
Scândurari - length 505.74 meters, level difference: 148.29 meters, difficulty degree : medium
Drumul de vară - length 2.971.74 meters, level difference: 394.04 meters, difficulty degree : medium
Târle - length 533.86 meters, level difference 221.34 meters, difficulty degree : difficult
Papagal - length 847.03 meters, level difference: 221.34 meters, difficulty degree :difficult
Carp - length 1.382.12 meters, level difference : 448.57 meters, difficulty degree : difficult
Începători - length 173.03 meters, level difference : 20.35 meters, difficulty degree : easy
Pârtia nouă (Cota 1.400-gondola) - length 2153.64 meters, level difference : 402 meters, difficulty degree : medium
Valea Soarelui 2 - length 1.200 meters, level difference: 200 meters, difficulty degree : medium
Valea Lăptici - length 1.900 meters, level difference 330 meters, difficulty degree- medium
The cable transport installations are: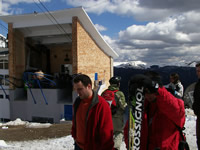 Tele-gondola - Cota 1.400 – length: 1.389.59 meters, level difference: 442 meters, capacity: 1.700 pers. / hour, duration of the trip: 5 minutes.
Cable car - Sinaia – Cota 1.400 – length: 2.330 meters, level difference: 590 meters, capacity: 300 pers. / hour, duration of the trip: 7 minutes.
Cable car - Cota 1.400 – Cota 2.000 – length: 1.945 meters, level difference: 600 m, capacity: 270 pers. / hour, duration of the trip: 6 minutes.
Chairlift - Cota 1.400 – Cota 2.000 - length 1940 meters, level difference: 600 meters, capacity: 2.000 pers. / hour, duration of the trip: 8 minutes.
Chairlift - Valea Dorului - length 980 meters, level difference: 180 meters, capacity: 700 pers. / hour, duration of the trip: 7 minutes.
Chairlift - Valea Soarelui - length 1.450 meters, level difference: 300 meters, capacity: 2.000 pers. / hour, duration of the trip: 5 minutes.
Ski lift - Scândurar - length 455 meters, level difference: 150 meters, capacity: 350 pers. / hour, duration of the trip: 3 minutes.
For the ones that prefer promenade tours or for the cross country skiers,the trail from Platoul Bucegi is recommended, having a total length of 8.000 meters and a level difference of 100 meters.
Sleighing
For practicing sleighing, there is the slope called "Drumul Vechi - Cota 1.300" , with a total length of 300 meters, a level difference of 60 meters, and also a bobsleigh track "Furnica-Sinaia" a track for contests,with a length of 1.500 meters and a level difference of 30 meters.
The traditional bobsleigh, sledge and skeleton contests are held on a specially designed track, located in the Western side of the resort, on the road that leads to Cota 1400 Hotel. The track has a length of 1.500 meters, a level difference of 134 meters; 13 turns, with an average slope of 9 %, a minimum slope of 3% and a maximum slope of 14 %. Two persons bobsleigh can reach a maximum speed of 110 km/h, and the four persons bobsleigh, a speed of maximum 120 km/h.
Off – road trips
For the ones eager to feel adrenalin, or the ones that prefer a tour with all terrain vehicles or motorcycles off road or enduro trips are recommended. Sinaia Tourism Association offers you trips on various mountain trails with all terrain vehicles:
Sinaia – Cota 1400 – Royal Sheepfold, with a visit to Franz Josef Rock and back. (Duration:app. 3 hours)
Sinaia – Cuibul Dorului Hut – Dichiu peak – Bolboci Hut – Bolboci Lake – Cheile Tătarului – Peştera Ialomicioarei (Ialomita cave) – Peştera Monastery –Peştera Hotel and back. (Duration: app. 7 hours)
Sinaia – Cuibul Dorului Hut – Şaua Dichiului – Piatra Arsă Hut and Complex – Babele – Sfinxul and back. (Duration: 6-7 hours ,out of which 3-4 ore walking)
Sinaia – Râşnov Peasants Citadel – Bran Castle – Cheile Dâmbovicioarei – Cheile Râşnoavei and back. (Duration: app. 7 hours)
Sinaia is also renowned through its events and contests held here every year. Every winter, in February Winter Air Sport contest takes place, a contest where snow-kiting fans can compete at Cota 2.000 in the next stages of Speed fly Slalom, Race Kite, Freestyle and Big Air.
In July, "Sinaia Forever" Trophy takes place, a trophy that has two stages of the Dunlop National Hill Speed Championship. Autumn comes for the tourists with "Sinaia Forever" Festival, a festival that takes place every year in September, and is an autumn festival that every year has another theme (details on www.sinaiaforever.ro )
---
4. Useful Information Sinaia
Sinaia Tourism Association
6, Republicii Blvd., tel. (+40) 244.312.122, (+40) 744.383.878, (+40) 737.197.949, (+40) 769.615.997
E-mail: atsinaia@yahoo.com Website: www.cazaresinaia.eu
Sinaia Tourism Promotion and Information Centre
47, Carol I Blvd., tel. (+40) 244.315.656
E-mail: office@info-sinaia.ro Website: www.primariasinaia.ro
Sinaia Town Hospital
2, Spitalului str. tel. (+40) 244.311.951, hospitalization service interior line 24
E-mail: spitalsinaia@yahoo.com
SensiBlu Pharmacy Sinaia
8, Carol I Blvd. Sinaia Hotel, ground floor, tel. (+40) 244.312.525
Emergency Call: 112
Sinaia Ambulance: (+40) 244. 310.031
Emergency Medical Service (SMURD): (+40) 244.320.006
DN1 Police station: (+40) 244.302.020
Mountain Police: (+40) 244.310.206
Mountain Rescue Emergency Call: (+40) 725.826.668 (0-SALVAMONT)
Sinaia Mountain Rescue Team: (+40) 244.313.131, (+40) 722.730.759
Mountain Rescue Team Leader: (+40) 744.335.961
1.500 meters altitude meteorological Station: (+40)244. 311.285
Sinaia Cable car station: (+40) 244.311.674
Cota 1400 cable car station: (+40) 244.311.872
BucegiMountains Nature Preservation Museum: (+40) 244. 311.750
Prahova County Forestry Administration: (+40) 244.313.499
Bucegi Natural Park Administration: (+40) 245.772.640
Sinaia Local Forestry Administration: (+40) 244.313.989
Peleş Complex: (+40) 244.314.552 and (+40) 244.310.918
"Carmen Sylva" Cultural Centre: (+40) 244.312.244
"George Enescu" Memorial House: (+40) 244. 314.155
Aosta street taxi station: (+40) 244.310.777
The Map
1. Dimitrie Ghica Park (1891)
2. Sinaia Casino (1912, 2 Carol I Blvd.)
3. Palace Hotel (1910, 4, Octavian Goga Street)
4. Caraiman Hotel (1881, 4 Carol I Blvd.)
5. Regal Hotel (1880, Str. Octavian Goga, nr. 2)
6. Old Electrical Transforming Stations
7. Rock made benches (1905, D. Ghica park, intersection of Carol I Blvd with Gării street)
8. Bucegi Mountains Nature Preservation Museum (D. Ghica Park)
9. The Heroes' Cemetery (Eroilor Street.)
10. Governess's Park (Eastern Side of Sinaia Monastery)
11. Sinaia Monastery (1690)
12. Casa cu Farfurii – The House with Plates- Architectural Monument XX century,( 13-13A ,Mănăstirii, Street.)