INTERVIEW 2010
INTERVIEW 2009
INTERVIEW 2005
INTERVIEW 2004
PREDEAL
Weekly Interview with Mr. Costea Cristian - Manager OLTENIA TOUR
[15 February 2010 to 21 February 2010]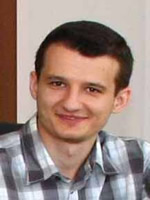 1. InfoTravelRomania: Mr. Cristian Costea, tell us a few words about the agency you drive.
Cristian Costea: Oltenia Tour is a relatively new travel agency on the Romanian market, we are only in the 4th year of Craiova and when customers can not only benefit from our services.

We are a team with average age 25 years, we are enthusiastic and we like to do things by the book.

2. InfoTravelRomania: How to differentiate? .. What come in addition to other travel agencies in Craiova?
Cristian Costea: We differentiate rather than a typical travel agency.

First of all do things with great pleasure and are always cheerful.

Then try to treat each client individually to understand what he wants and really very important that you present all the details about the options they have and about the location chosen.

Another aspect that I can be very important is that we do not try to impose any opinion person and present things as they are. Many customers are surprised when we tell the details look like, "are stones on the beach" "all inclusive means alcohol charge," the rooms are quite small "are not playgrounds for children.

So we think it is most corect.Clientul has all the information to make the best choice for his vacation.

3.InfoTravelRomania: I noticed that only offer Bulgaria, Greece and Turkey. Why not diversify the offer?
Cristian Costea: Our offer includes major tour operators offer. We focus our attention on those locations for that: we are required very often and it cunoasterm best because we saw each state, with good and bad.

4. InfoTravelRomania: What you are experiencing financial crisis last season?
Cristian Costea: It was the first year when I made a profit. Fees charged by us are young, we were hard in the first 2 years, but happy customers return.

5. InfoTravelRomania: What expectations you have of summer?
Cristian Costea: Measure customer satisfaction in the gifts we receive after they return. We hope this season to be forced to increase support for the wall that keeps them.



6. InfoTravelRomania: We have about 16 tourism fairs in the country. Join the booth at any of them? Or at least like to visit? ..
Cristian Costea: just visiting for now. We are always careful in selecting the best deals for our clients.

7. InfoTravelRomania: How come again in 2010?
Cristian Costea: The flight tickets with only 5 euro fee.



8. InfoTravelRomania: What do you think about Infotravelromania?
Cristian Costea: The only site where you can get information only truly important and topical.