Federation of Associations for the Promotion of Tourism - brings together all the regional associations to promote and develop tourism in Romania.
President: Corina Martin.
---
National Association of Travel Agencies - ANAT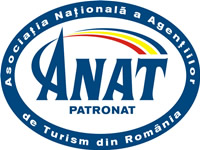 New headquarter of Employers ANAT is Splaiul Unirii nr. 16 (SIF Muntenia building, opposite the Chamber of Commerce and Industry of Romania), 8th floor, rooms 807-810. New phone numbers are: 021-312 68 43 021-312 08 02, 031-405 66 61, 031-405 66 62. The new fax number is 021-312.19.08. Www.anat.ro (officially launched on October 23, 2004) | E-mail: office@anat.ro

New secretary general of the Employers ANAT, since June 1, 2007 is D - na Carmen Botez, the same day, Mrs. Maria Salcianu, which provided interim secretary general, returned to the position of chief executive in the organization.
Honorary President: Marcel Badescu [Nova Tourism - Bucharest]
President: Corina Martin (former president of ANAT SE Region, general manager of companies Mistral Mistral Voyages and Tours of Constanta).

Senior Vice President:
Alin Burcea (Parallel 45, Bucharest),
George Sorin Nicolescu (Vice-President in the previous mandate, the International Olympic CEO).

Vice-presidents:
Peter BALAS (Peter Express, Bucharest)
Ciprian Popescu (Danubius - TUI, Constanta).
Alecs Gregory, Chairman North-East (OLIMP TOURISM Iasi)
Antonio NITU (AEROTRAVEL Bucharest)

Board of Directors of NATA, mandated to lead the association during the period 2009 - 2011: Marian COJOCARESCU President Region Bucharest-Ilfov (MARA NEW TRAVEL Bucharest), Drago Horhocea (Agetur, Focsani), Mihai Preda (Micomis, Brasov), Dan Anghelescu (La Piovra , Bucharest), Gabriel Barbu (Discovery Travel, Pitesti), Sorin Dencescu - Region Center (Kron Tour, Brasov), Marius Usturoiu - West Region (United, Deva), Florin POP (Family Travel Bucharest), Violeta Constantinescu (PLOUTOS Bucharest), Aurel Pavel (J 'INFO TOURS Bucharest), Cristian BARHALESCU (ICAR TOURS Constanta), Martin BIKFALVI (CALIBRA Cluj-Napoca), Adrian Voican (BIBI TOURING Ploiesti) and Adrian NACE
(SEYTOUR Ramnicu Valcea).


It also automatically enters NATA Board of Directors of Employers elected presidents of regional councils ANAT 8. They are: Marian Cojocărescu - Bucharest region (Mara New Travel), Sorin Dencescu - Region Center (Kron Tour, Brasov), Gregory Alecsa - North East (Olympus Tourism in Iasi) Cristian Bărhălescu - South Eastern Region (ICAR Tour, Constanta ), Marius Usturoiu - West Region (United, Deva), Martin Bikfalvi - North West (Calibra Cluj), Adrian Voican - South Region (Bibi Touring, Ploiesti) and Adrian Nace - South-West (Seytour, Ramnicu Valcea) .
ANAT Executive, led by Carmen Botez, general secretary of the association in June 2007, will ensure continuity and coherence of activities. "I am honored by the confidence of my colleagues - members of NATA in Bucharest and the country, which I have been in the past with the campaigns and events we run as President and Chairman of South East ANAT Promotion Association Seaside Tourism.

Mandate my colleagues and my team for the conduct of NATA Board of Directors for the next 2 years has an important moral value - is a confirmation that all those who work, struggle and dedication to serve the interests of members receive the recognition efforts them, which is further proof of a civil society that learns to respect the rules of democracy and respect their values. Embark on a challenging, on a background of general crisis affecting the course and travel agencies. It requires, more than ever, to close the ranks and prove solidarity and faith in the values and principles of NATA - the strongest employers of Romanian tourism, "said Corina Martin, the new chairman of the Employers ANAT, when its investment in office. Corina Martin graduated in 1990, Faculty of Economy and Tourism Services of the ESA, the only college tour at the time. In 1990, he was the first employee of the agency Nouvelles Frontieres - Simpaturism of Constanta, between 1992 and 1998 as director of this subsidiary. In 1998 established his own travel agency, Mistral Voyages, which leads one to this day. NATA member since 1998, Corina Martin is chosen, in 2004, Vice President Regional Council NATA SE, and in 2006, president of NATA SE. In 2007 he managed to establish, with support ANAT, Association for Tourism Promotion and Development of Seaside, whose president was elected. Seaside Association proved to be the most powerful new public - private Romanian tourism. Since 2008, is the president of the Federation of Associations of Tourism Development in Romania.

Date Established: 1990.
Member: FUAAV / UFTAA and ECTA. From January 1, 2007, ANAT is full membership in the association ECTA;
Since 1993, member of Federation of Associations Universal Universal Associations. Travel agencies (FUAAV / UFTAA).

National Association of Travel Agencies (ANAT) is a profesional public orgnization estabslished by merger of travel agents and tour-operators in order to found , on the grounds of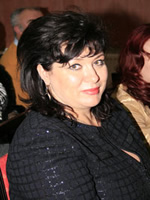 common business and equality and within the frame of law and their Statute, an amalgamated managerial institution to coordinate business activities of travel agents and tour-operators, protect their interests and represent Romanian travel business on the world`s scale.

National Association of Travel Agencies (ANAT)
President: CORINA MARTIN
Adress: Splaiul Unirii nr. 16, sector 4, cod 040035
Tel 021/ 312.68.43 ; 312.08.02 , Fax 021/ 312.19.08
E-mail: office@anat.ro
Account ANAT: RO23 BACX 0000 0030 0159 7003
UniCredit Tiriac Bank - Branch Izvor
Legal framework: H.G. 1195/2001 - THE ASSOCIATION OF PUBLIC UTILITIES



---
Association for the Promotion and Tourism Development Seaside
Corina Martin -
President of the Association for the Promotion and Tourism Development Association - Seaside
President NATA.

General Manager - MISTRAL VOYAGES Travel Agency in Constanta.

Secretary General: Florentina Boariu


It was established on April 2, 2007 and was officially registered on May 17, 2007.
Mamaia - Telegondola, 900 001, city of Constanta, Constanta county


Tel / fax: 004 0241 831 321.

Date Established: 2007.


E-mail:

presedinte@asociatia-litoral.ro | office@asociatia-litoral.ro
www.asociatia-litoral.ro



This entity is indeed a public - private between: local and regional authorities, employers and professional association, chamber of commerce and territorial a world-renowned tour-operators.

Common goal is to develop and promote the Romanian seaside, tourist destination priority of Romania, and developing and implementing a development strategy for the area, creating a brand of the coastline.



Members of the association are: Employers Association of Travel Agencies from Romania, Constanta County Council, Chamber of Commerce Industry, Navigation and Agriculture, Regional Development Agency South East Braila, Constanta City Hall, City Hall Mangalia and Mamaia Employers Association, Grand Hotel Industry Employers

Black Danubius - TUI Romania, Romanian Convention Bureau and the Association of Chefs and Confectioners of Tourism.
---
ASSOCIATION FOR THE PROMOTION OF TOURISM PRAHOVA
President: Adrian Voican | Contact: Ioana Trandafir, Secretary General
Address: Ploiesti, Str Cuza Voda No. 8, inside the Chamber of Commerce and Industry Prahova, zip code 100010;


Tel / Fax 0244.522.052 / 0756.056.230


E-mail: office@asociatiaturismprahova.ro | Mess_id: asociatiaturismprahova@yahoo.com
www.asociatiaturismprahova.ro











---